The Muse - A forum for sharing information about the Julian Family Fiddle Camp.
Welcome to The Muse! The Muse is an independant blog meant to provide updated information about the Julian Family Fiddle Camp, and allow camp registrants and interested others share pertinent information.
To add a comment, you must first click on the heading or "comment" section of an entry, then fill in the data and security blocks. Type your comment and submit. Submitted comments are reviewed by the blog administrator prior to publication.
Who's Who - Julian Family Fiddle Camp 2013
By Administrator - Julian Family Fiddle Camp | January 07, 2013 at 11:50 AM EST |
20 comments
Howdy Campers!

While comparatively early, the number of committed registrants for the April 2013 Julian Family Fiddle Camp is simply unprecedented. You know who you are, but what I ask now is that you let others coming to the Camp know a bit about yourself (e.g., where you'll be coming from, what instrument(s) you play, how long, and what you hope to get out of the Camp), and that you do it by posting something here. I've added below the introductions posted earlier by some of our instructors (i.e., Jane Frey, Avery Merritt and Yaniv Salzberg), and ask you to post yours. Ultimately, your introductions here help us get a jump-start on creating the camaraderie and encouraging atmosphere that hallmark the Julian Family Fiddle Camp - an atmosphere that inclines all to take more musical risk and, as a result, get the most out of the whole Camp experience.

THANKS!

Avery Ellisman


THANKSGIVING GREETINGS!
By Administrator - Julian Family Fiddle Camp | November 15, 2012 at 02:45 PM EST |
3 comments
JFFC November Update
By Administrator - Julian Family Fiddle Camp | November 06, 2012 at 06:44 PM EST |
2 comments
Howdy All!
Since last entry, Julian Family Fiddle Camper, Maril Parker and husband Gregg, held the annual "Applepalooza" party at their lovely Julian home, and darned if there weren't some twenty fiddle camp alumni there! Great time – unbelievable food, and of course, apple pie and fresh-pressed apple juice. Will note that, while he couldn't be there, fiddle camper Buzzy Geist managed to provide the event with a fantastic variety of sausages he personally makes and markets. REALLY - REALLY - good stuff!!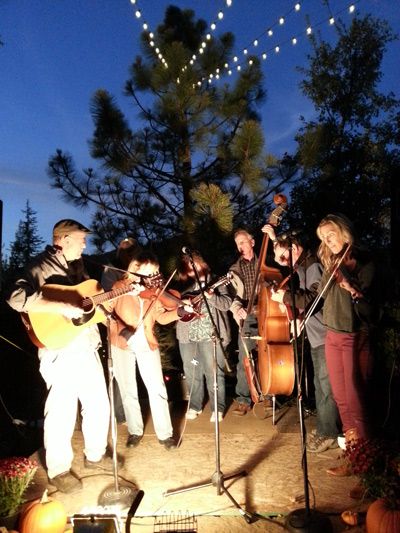 Applepaloozans L - R: Ken Wright, Patti Urie,
Mary Jane Cupp, Glenn Urie, Nancy Brunson and Maril Parker
The day after the Parker's event, I and a good number of other "fiddlemeisters" made it out to Goleta, CA for the annual Old Time Fiddlers Convention and Festival. Am pleased to note that, yet again, our own Katie and Thomas Harvey walked away with a number of prizes for fiddling and picking, and I even got some attention for whatever it is I do on the mandolin. While there, I had chance to meet and speak with a great mandolin player, Sharon Gilchrist, as well as enjoy the fantastic flatfoot dancing of Nashville native, Rebecca Stout. With some luck, Rebecca will be at the 2013 camp to demo and instruct those interested in this traditional form of dance and music accompaniment – a true folk art that, like fiddle music itself, has deep and old roots, yet remains a timeless joy.
As for the 2013 camp, registrations are already rolling in, and to make it easier to secure space, we're now set up to accept payments via PayPal As you can see from the website's Instructors page, we've a full compliment of top-notch teachers for fiddle, mandolin, guitar and banjo and, should the "cards and letters" prove there's enough interest, we'll add some instruction on upright bass.
In addition to the above, I'm extremely pleased to note that the Julian Family Fiddle Camp has been accepted for review by Fractured Atlas, a wonderful nation-wide non-profit organization that provides fiscal sponsorship for young and select organizations promoting and advancing the arts. On assumption that we pass their review, the Julian Family Fiddle Camp will be adopted by the organization, and while functionally independent, able to solicit and receive tax-deductible donations, i.e., something that is critical for our student scholarship fund, as well as securing the support necessary to cover many of the costs associated with annual camp production.
I will be posting more about the camp soon, noting that there will be a new page added to the website that will clarify the procedure for making tax deductible donations in support of the camp in general, or to specifically contribute to the Camp's scholarship fund.
I'll keep you up to date, and look forward to reading your posts here as well.
Avery
2013 JULIAN FAMILY FIDDLE CAMP LINEUP & UPDATE
By Administrator - Julian Family Fiddle Camp | September 27, 2012 at 11:30 AM EDT |
No Comments
Howdy amigos!
A bit of time's passed since the last update, and I'm pleased to note here that just about everything's in place for Julian Family Fiddle Camp 2013. Indeed, in addition to fiddle, mandolin and guitar, our next camp will include instruction in old-time banjo! With all the main instructors now confirmed, I'm excited as ever to announce the following lineup of great musicians who will be teaching at the camp:
INTERMEDIATE & ADVANCED SECTIONS
FIDDLE
Katie Glassman - Colorado and Texas State Fiddle Champion, and third overall in last June's National Old-time Fiddle Contest in Weiser, ID.
Guitar
Tyler Grant - National Flatpick Champion. His second year teaching at the camp.
Mandolin
Evan Marshall - The "Victor Borge" of the mandolin returns again for his third year at the camp. A brilliant instrumentalist, an incredibly entertaining performer, and a devoted and highly-focussed instructor.
Old-time Banjo
Adam Hurt - Considered one of the most talented and influencial old-time banjo players in N. America today. Winner of almost all old-time banjo contests in the US, this will be Adam's first visit to the camp, and a rare opportunity for folks to learn from THE best.
BEGINNER-MEDIATE SECTIONS
Fiddle
Jane Frey - Simply a master at cajoling the best out of those who play the instrument a bit, and benefitting from attention to - and improvement of - specific techniques. This is will be Jane's third year teaching at the camp.
Avery Merritt - Avery Merritt is simply one of the most talented young fiddlers in California today. He co-taught last year with Calvin Vollrath, and will be joining Jane this year in helping the less-advanced students improve their technique, increase their ability to play by ear, and add to their musical repertoir (He'll also teach a workshop or two on rock and electric fiddle).
Guitar
Yaniv Salzberg - Yaniv is a multi-instrumentalist and educator with extensive experience teaching guitar and other instruments to individuals and groups. He's a prolific songsmith, and has been a session musician for a long list of top-tier performers. This will be Yaniv's first year at the camp.
Mandolin
TBA
Old-time Banjo
TBA
As for things closer-at-hand, I'll note that there are a number of events in October I'll personally be attending, and encourage any/everyone in the respective areas to go as well. Specifically:
On Saturday, October 13th, Julian Family Fiddle Camper, Maril Parker, will be hosting her annual "Applepaloosa" - a potluck family-oriented gathering in Julian, CA, that includes apple picking, a barbecue, performances and jamming. This event is simply a blast - open to all Julian Family Fiddle Camp "alumni", including their friends/family. For details click on Applepaloosa, and be sure to RSVP with Maril directly by calling 760-five one nine-1216.
41st Annual Old-Time Fiddlers' Convention and Festival
Sunday, October 14th is the annual Old-Time Fiddlers Convention and Festival held in Goleta, CA. This is a great gathering of acoustic string musicians, including some fine performances and a fiddle contest. Many Julian Family Fiddle Campers come to this, and it would be great to get our own little jam going. For info, click on Fiddlers Convention, and once you get there, give me a call at 760-five two two-8458 so that we can connect.
CONGRATS TO ONE OF OUR OWN!
I was recently in Tehachapi, CA for the area's annual fiddle contest, and am pleased to mention Julian Family Fiddle Camper, Juliette Bascom, either won or placed in several categories of competition at the contest. It was great to see her and her parents there (and an honor to play in the "twin fiddle" division with her as well). She did great, and took first and/or placed in so many divisions, I simply lost count!
WTG Juliette!
2012 Julian Family Fiddle Camp - April 11 - 15: WHAT MEMORIES!
By Administrator - Julian Family Fiddle Camp | April 20, 2012 at 11:56 AM EDT |
4 comments
Yessiree .... The weather gods smiled on us again, only rather than sun, they surprised us with 3" of snow Friday night - a beautiful white blanket that kept us huddled inside, and enhancing the atmosphere of a warm, close-knit fiddle camp (Of course some serious out-of-season snow-ball fights did occur, prompting me to make feigned calls to the "fun police" given so many overjoyed kids (young and old). Calvin Vollrath, Evan Marshall, Katie Harvey, Jane Frey and Martha Wild did their magic once again this year, and were joined by camp newcomers, Tyler Grant and Jonathan Trawick. Wild card, Avery Merritt, shared fiddle duties with Calvin Vollrath, and as expected, wowed all with his prowess on acoustic and electric fiddles. More pictures will be posted soon, but for now here's a collage that tells a bit of the story:
HEAD START
By Administrator - Julian Family Fiddle Camp | January 02, 2012 at 01:10 PM EST |
21 comments
Hi everyone!
Hope y'all had a great holiday, and that the new year treats you well.
While early, a good number of folks have already preregistered for the camp, and if applications continue to flow in at the present rate, we'll be at capacity much earlier than expected. That said, the camp's success has a lot to do with an atmosphere of mutual support - a feeling that is generated as much by the participants as it is by the attitude and ability of the instructors.
To foster the comeraderie that makes a camp experience great, its helpful to get a jump-start on things by registrants posting a brief introduction about themselves, along with a few words about what it is they hope to get from the classes and overall camp experience. Since a good number of last year's attendees are already signed up, I'm hoping they'll post a personal "welcome", as well as some suggestions as to what those coming for the first time can do to get ready.
So, for those of you ready to say "howdy", please feel free to do so here. I'll try to get your posts up as quickly as I can, knowing this forum will (as it did last year) help all "hit the ground running" when camp begins.
Avery
Pictures from Patty Urie's Jam
By Administrator - Julian Family Fiddle Camp | December 06, 2011 at 03:50 AM EST |
No Comments
Hi all!
Just one year ago I turned my clasical violin into a fiddle and started attending some of the local San Dieg bluegrass events. The folks I've met have been very welcoming to a beginning fiddle player and they recommended the Julian Family Fiddle Camp. The idea of a fiddle camp was very intimidating but I forced myself to go and I'm so glad I did. I met others at my skill level (I thought I was the only one) and patient instructors that made everything simple gave me the confidence to want to learn and keep trying. The relaxed atmosphere, attending classes and workshops and eating meals together and playing music for the barn dances in the evening, all made for a wonderful lifetime experience. I made many new friends and contacts through fiddle camp and enjoy seeing them around town at different events. I recently hosted a bluegrass jam at my house with some of my fiddle camp friends along with several performance level bluegrass musicians. I was humbled by the joy of that music and those who came to share the evening in my home. I look forward to seeing everyone at fiddle camp next year!!!!
Patty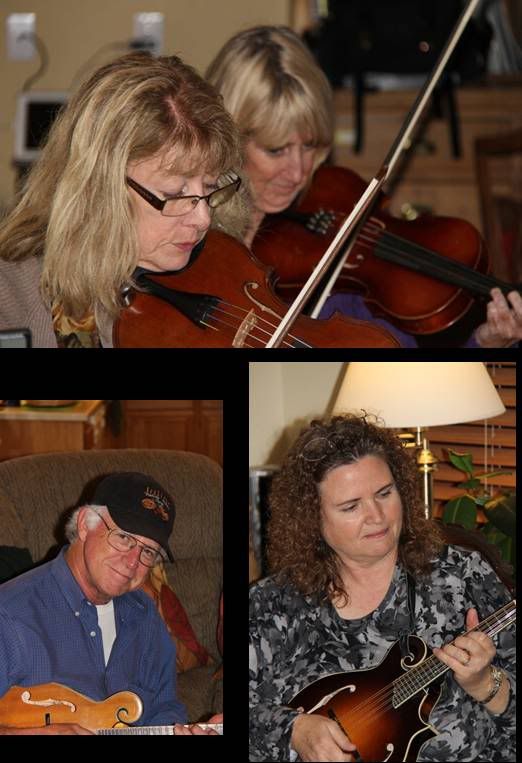 Top: Patty Urie and Nancy Brunson / Bottom Left: Avery Ellisman / Bottom Right: MaryJane Cupp
Julian Family Fiddle Campers shine in Goleta, CA
By Administrator - Julian Family Fiddle Camp | October 10, 2011 at 03:12 PM EDT |
No Comments
HOWDY AMIGOS!
Just a note (and a photo) to bring y'all "up-to- speed". First, the new ad for the Julian Family Fiddle Camp (JFFC) is ready and soon to be sported on a few relevant websites, and printed in some select hard-copy magazines (You can view the ad by clicking on the following link: JFFC Ad - 2012). Second, I am pleased to report that JFFC instructor, Katie Harvey, took away first prize as the champion Scottish-style fiddler at this year's Highland Games in Ventura, CA. As if this wasn't enough, Katie traded the plaid for overalls and, the following day, won the advanced fiddle division at the Old-time Fiddlers Convention and Festival in Goleta, CA. Her brother, Thomas, took first in beginning mandolin, and my daughter, Shira, took second in intermediate fiddle. They were quite happy with their respective showings, and riding the joy of the day, formed an impromptu band with some new-found fiddling friends, Anya and Obin Sturm, and together took first-place in the novice band category! Below's a picture of Anya, Katie, Thomas, Obin and Shira. WTG you guys!
Would welcome hearing/learning more about the musical antics of others who have been - or are planning on coming - to the Julian Family Fiddle Camp.
Avery
VIDEO OF JULIAN FAMILY FIDDLE CAMP 2011!
By Administrator - Julian Family Fiddle Camp | June 06, 2011 at 08:21 AM EDT |
No Comments
Whether "threat" or "promise", I dare say there's follow-through, and the concept of a short video documenting Julian Family Fiddle Camp 2011 is now a reality.
Filmed by Billy Marchese and Brenda Beauregard (and the now-familiar music of Calvin Vollrath playing in the background), this short is meant to capture and convey that which was experienced at the camp last Spring.
I welcome your comments, and hope you like it.
Avery Ellisman
Julian Family Fiddle Campers - 2011
By Administrator - Julian Family Fiddle Camp | April 20, 2011 at 07:49 PM EDT |
18 comments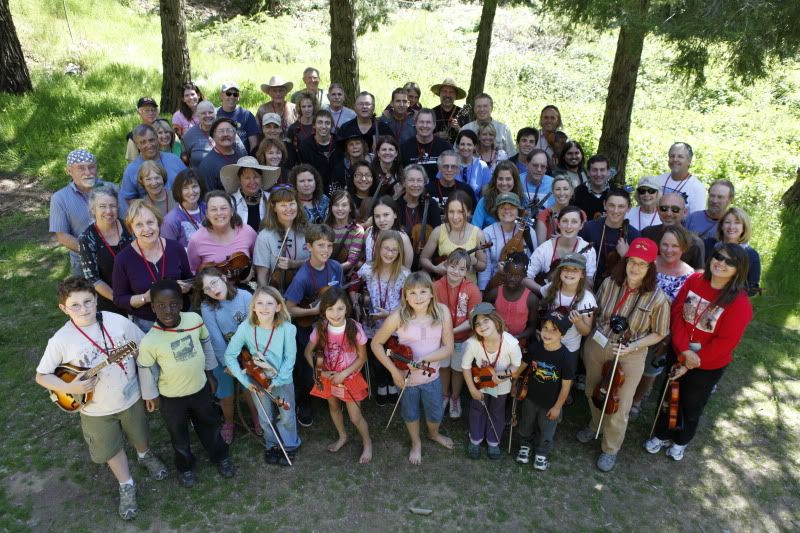 The Julian Family Fiddle Camp 2011 has come and gone, and I dare say a good time was had by all. Indeed, my personal expectations were exceeded on almost every level, i.e., from the number of people, to the caliber of teaching, the phenomal performances given by Evan Marshall, Scott Gates, Calvin Vollrath and Katie Harvey, the wonderful dances led by Martha Wild, and the encouragement and instruction given by the ever-smiling Jane Frey. As the Producer/Director of the event, its expected that I would write glowingly of what we all experienced, but I am hoping those who "risked" coming to the inaugural year of a heretofore unknown fiddle camp will post their thoughts for all to read.

I look forward to the comments of those who came as students, instructors, family members and/or visitors to the camp, believing these views will mean far more to those considering whether or not to attend next year's event.

While a long ways off, I will note that the enthusiasm at - and for - the Julian Family Fiddle Camp gives every reason to plan for 2012, and am adding an additional day to next year's camp. For those who plan ahead, the tentative dates for Julian Family Fiddle Camp 2012 are Wednesday, April 11th - Sunday, April 15th.
MARK YOUR CALENDARS!

Avery Ellisman
The First Word
By Administrator - Julian Family Fiddle Camp | February 18, 2011 at 07:30 PM EST |
19 comments
Avery Ellisman here, the guy behind (or in front of) the first Julian Family Fiddle Camp. Thought it wise to create a place where all who are interested can provide and/or share information about themselves as it relates to our upcoming experience at camp. As the camp producer, I'm naturally interested to learn more about those who are coming, and am hoping you will take the opportunity to let others know a bit about yourselves as well (e.g., where you'll be travelling from, what you play, how many years on the instrument, type of music you like and what you hope to get from the camp experience). Blogs are a mixed bag, and while I don't expect to be "heavy handed", please know I plan on keeping a close eye on entries, and will try to make sure all posts are relevant, informative and encourage the playing of music together.
To start this out, I'll note that I'm 59, a rather advanced fiddler and mandolin player, and a father of 3 kids, Shira - 10, Ada - 8, and Ezra - 5. All of my kids play the fiddle to some degree or another (yes, they'll be at the camp), and their and my experiences at other fiddle camps over the years has been the impetus for creating the Julian Family Fiddle Camp. I'll likely expand on this as time unfolds, but, as is said - "enough about me...".
Okay, with that aside, I'm truly pleased to note that, as of today, there are nearly 50 signed up to attend the camp, and believe me, this is doggone phenomenal given that its year one of what I fully expect to be an annual event. You all know who you are, so if you're courageous enough to post a note and let others know a bit about yourselves, then by all means, GO FOR IT!
BTW: To add a comment, double click on "comments" above and, after filling in the required information, type what you want to say then click on "submit comment".
Look forward to learning more about you, and of course, meeting you all this April.
Avery
__________________________________
Julian Family Fiddle Camp 2012
For those who weren't there - and for those who were - below's a short video of 2012's main instructors cutting loose on the old-time standard, Ragtime Annie. Thanks Brian Kramer, for the great video work!